‹ Go back to educational blog
Reflective Essay – Definition
January 31, 2020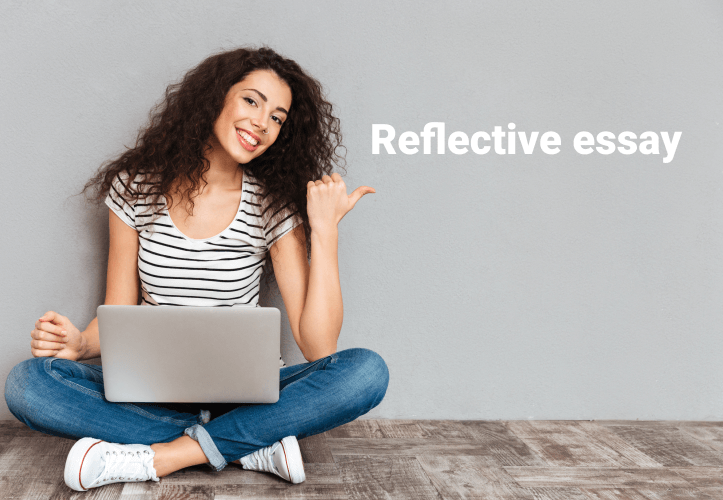 A reflective essay is a rather popular assignment and is given in a variety of courses. When working on a reflective paper, students need to look at their experience and gained knowledge, and to put all these ideas on paper. If you are asked to write a reflective essay at the end of a course or project, it means that the tutor wants to read about everything you learned during the course.
If you are willing to master the art of reflective writing, just continue reading and we'll introduce you to the most powerful tips. But first things first, reflective writing is similar to completing other types of papers and the single difference is that you should reflect on yourself and not on the outer world.
Meaning of a reflection essay
The first and probably the most difficult part is to define what your assignment is about. Once you do that, you'll know which direction to go. So reflection essay is about concentrating on yourself. The reader wants to know how you evaluate something that has happened in your life.
For example, you can be asked to reflect on memories, emotions, events or feelings. They need to be deep, interesting, and exciting. The audience won't want to read a boring story.
A reflective essay is one of the most personal types of academic assignments: you will need to look inside of yourself, reflect, evaluate, and explain. You will have to show the feelings and emotions that you experienced. For example, teachers may ask to write about the most dramatic event in your life and how it changed who you are. Unfortunately, we often miss out on irrelevant details without which it's impossible to build a full story – take some time to reflect and try to remember as much as possible.
In some cases, reading examples of reflective essays may be of great help. Download templates and read what other students write on a similar topic. But remember that you should write an essay from scratch, not to copy and paste someone else's work.
Starting a reflective essay
By now you already know what a reflective essay is and it is the right time to proceed to the writing stage. The best way to begin is to create an outline. Even though many students neglect this stage, it turns out that outlines greatly contribute to the overall success and significantly improve the grades of the student.
With the help of an outline, you'll have a clearer picture of what to write about and how to structure information in an understandable manner. The outline is a plan of action, your personal compass in the academic world, so you should definitely devote some time to crafting one.
Once you have a clear plan of the main arguments and paragraphs that should be included in the text, it will be much simpler to work on a reflective essay. You will only need to stick to the plan and cover one issue after another.
Is it your first time dealing with outlines? Don't worry, we have written a check-list of the things that should be included:
Choose a topic;
Gather information;
Analyze sources and select only relevant ones;
Write the first draft;
Write the main sections of the subject;
Make a list of references (if required).
The next part of an outline concerns the paper itself. Here are the main sections you should include to a reflective (or any other) essay:
Introduction;
Body paragraphs;
Conclusion.
Introduction in a reflective essay
An introduction is the first thing the audience sees when reading an essay. That is why it should be both informative, short, and rather catchy to make the audience read further. In this section, students need to explain what topics will be covered in the essay and what the main issues are. Don't forget to close this part with an appropriate hook sentence. For example, a joke, a quote or something personal.
At the end of the introductory section, you'll need to write a thesis statement that consists of your main goal. Here students need to:
Describe a concrete event or experience;
Include a powerful example;
Show how a particular event or change influenced you as a person and what lessons you have learned from it.
Working on the conclusion
After all the body paragraphs are written, you should summarize everything in a conclusion. Here you give an overview of the essay and should:
Retell the situation briefly;
Emphasize key points;
Conclude the essay logically.
Many students don't pay proper attention to this section but research shows that the conclusion is equally important and is another chance of telling about your skills and knowledge. With its help, you can once again show a deep understanding of the story and the lessons you have learned. Remember, a reflective essay is always a chance to help others. Who knows, maybe some of your classmates are going through the same problem and don't know how to overcome it? Your essay may be a lifebuoy for them!
The best tips on writing a reflective essay
Our professional writers have made a list of tips that will surely help you with writing an outstanding essay:
Concentrate on yourself. You can write about events and actions but not about other people;
Try to avoid first-person, when writing a reflective paper. But don't forget to back arguments with evidence and support;
Stick to official vocabulary. Even if you think that the story is personal, it doesn't mean that you should insert slang words into it. Don't turn the essay into a blog even if the whole tone of the paper is humorous;
When introducing new details or starting a paragraph it's necessary to use transition words and phrases. They will make the text smooth and readable;
Stick to the accepted format. In most of the cases, a reflective essay should be a maximum of 600 words long. Ask your teacher for specific requirements.
Formatting of a reflective essay
We always recommend starting with reading examples of the paper you are asked to complete. Read templates that are typical for your school or college, or cover a similar topic. Once you get an overall idea of what to write about, just follow the steps below:
Create the first draft. Depending on the goals you have, start writing the draft to see where the words will take you. Don't pay attention to spelling or structure – you will have time to rewrite places that you don't like and to add important details;
Follow the format. In most of the cases, the teacher will tell you what formatting style to follow – MLA, APA, Chicago, etc. They have rather different demands on formatting, so you should know all the peculiarities in advance;
Cite all the sources properly. Every quote and idea of another author should be inserted into the text. Don't forget to make a list of references at the end of your essay.
A reflective essay is assigned in all types of subjects and academic institutions. When working on it, students need to look back at their previous experiences and lessons they have learned. And like any other work, it should follow a certain formatting pattern, let's take APA format as an example. Here are its main requirements:
1-inch margins on all sides;
Double spaces between the lines;
Times New Roman font, 12 points.
By this point, you may feel a bit nervous and not knowing whether you'll be able to manage the assignment on your own. But believe us, writing a reflective essay is rather simple if you practice. Just start writing and you'll see that every draft is better than the previous one. Who knows, maybe you'll like writing and will become a famous writer one day?
Choosing a topic for a reflective essay
Everything starts with an idea. And if the tutor didn't give a clear topic to cover, it may be rather difficult to decide what to discuss. Let us introduce you to some of the best reflective essay topics that can be suitable for all the academic levels:
The most unforgettable experience of your life;
The memory that breaks your heart;
What inspires you the most?
Qualities that help you to stand out;
How do you achieve goals?
Things you like about yourself;
The biggest fear you have;
Your most cherished dream;
How do you see your future?
Your ways of overcoming stress.
If none of the above suits you, try going to a local library or surf a few websites to find subjects that may light your inner fire. But remember that they must be personal and reflect on yourself, not on the people around you.
Proofreading and correcting mistakes
Once your reflective essay is ready, don't hurry to submit it. You should still take some time to revise the final draft and look for all the possible grammar or spelling mistakes. We recommend putting the essay into a drawer (or closing a laptop) and taking a break for a few hours or even days. Enjoy yourself, relax, and praise for a good job.
Then return to the essay and give it a fresh look. Use vocabularies, online checkers or even ask your friends and relatives for help. Eliminate all the possible mistakes, switch paragraphs or even delete them if you think that they harm readability. Even the most experienced authors can't write an A+ essay without proofreading and editing.
Need professional help? We are here for you!
It is not a secret that academic writing is one of the most difficult assignments both at school and college. And not all students love writing essays, especially when they are so personal. It requires not only writing and analytical skills but also a range of traits. We weren't all born writers, so if you feel that writing a reflective essay is not for you – don't force yourself! Luckily, we are living in a digital world and simply within a few clicks, you can order an excellent essay from our writers. And if you already have an essay but need to polish it – just contact our proofreaders and editors. We'll never leave you one-on-one with the essay, and you'll get the highest grade effortlessly!