‹ Go back to educational blog
Pop Culture Topic – Guidelines for Choosing the Best Subject for an Essay
February 6, 2020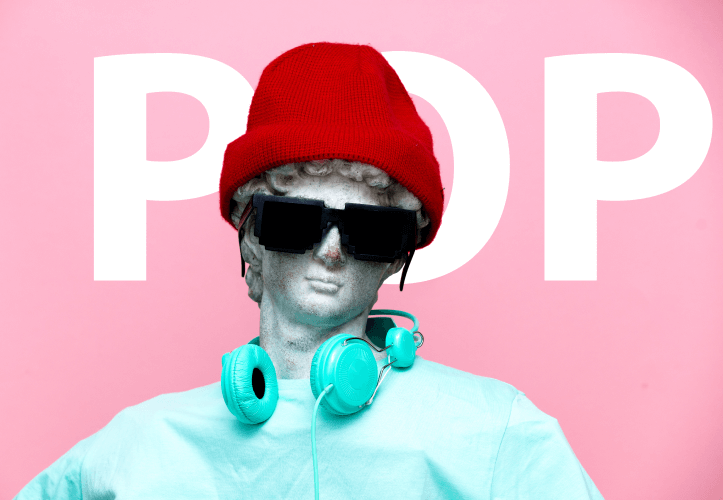 Pop culture topic is surely not the first that pops in your mind when a personal essay is assigned. These topics concern modern signers and artists, beauty trends, and even social issues. But pop culture topics have one advantage – they are recent and concern the world we are living in, so no one will be left indifferent.
When hearing pop culture many students imagine Britney Spears or boys' bands but in reality, there are lots of points that can be covered. When chosen correctly, a pop culture topic can touch tens of different aspects and directions. In addition, it can be closely related to other issues, which makes the field of action rather broad and interesting.
However, this also means that students will need to process multiple sources and to be ready to conduct detailed research to find the necessary information. Whether you like it or not, all of us are a part of the modern culture and it greatly influences our everyday lives in a variety of ways: via smartphones, TV shows or even interactions with other people. It is not a good or a bad thing because everything depends on your perception.
In addition, pop culture intertwines with all aspects of society – art, history, and even geography blend together in thousands of different ways. Some of them lie on a surface, while others need to be found.
Today we will talk about the most engaging and interesting pop culture topics. Our experts have conducted detailed research and have gathered all the data you may need when preparing an essay on such a topic. So, if you lack ideas, don't know how to structure the essay or simply want to get familiar with alternative points of view – just read our comprehensive guidelines for writing a pop culture essay!
How to structure an essay on pop culture topics
Luckily, creative topics give students enough space to show their writing talents. But still you need to consider what type of essay you have to write – if it's an informative essay, students simply should stick to a five-paragraph format and tell about different aspects of pop culture. But if it is an argumentative essay, where you should tell about the way people interact or how pop culture influences our minds, you may need more paragraphs to fit in all of your arguments.
Let us introduce you to the most typical structure because most likely you won't have to face more complex requirements:
Introduction;
Body paragraphs;
Conclusion.
An introduction is your first chance to make an impression, so try to be bright and catchy. The first two sentences give a general overview of the chosen pop culture topic. Don't go too deep into details but provide enough information to grab the attention of the audience. There is a simple way to do it: add a hook that would contain a joke or an anecdote, a quote or even a story from your own life.
Finish introduction with a thesis statement – it is a sentence that contains the main idea of your pop culture essay. We recommend writing this sentence when the paper is finished and you clearly see which direction the essay has followed. But even if you write a thesis at once, don't worry – there will always be enough time to adjust it to the arguments.
The heart of your essay is body paragraphs. Here is where you develop a chosen pop culture topic. The number of these paragraphs depends on the number of arguments you are planning to discuss. However, not to bore the reader it's recommended to include three to five arguments. Each of the paragraphs must start with a topic sentence and follow with evidence and examples.
If you are using data from other sources (statistics, quotes, etc.) refer them properly. Even the best essay will fail if it is plagiarized. Another important advice is to include transition words and phrases between paragraphs to glue them together. Readers should find it simple to move from one thought to another.
The conclusion is the final part of your essay on a pop culture topic. Unfortunately, many students think that no one reads this paragraph. They write it just to finish the essay or even don't have any conclusion at all.
However, it is a big mistake and the conclusion is your additional chance to show the audience that you have conducted thorough research of the topic and your arguments are unique. At first, summarize everything that was stated in the essay and then paraphrase the thesis statement showing that your ideas are consistent with each other.
In the end, you can include an open question or a call-to-action that would motivate readers to research the discussed pop culture topic further or to conduct their own evaluation. Don't forget to present new non-trivial ideas and you'll see how engaged the audience will be!
Examples of pop culture topics
If you were asked what pop culture is about, what your answer would be? Most likely, you'd say that it is about consumption. But we would surely disagree because pop culture is more than that – it's about lifestyle, interaction, and of course globalization. It also concerns art, fun, and fashion. So why not choose a pop culture topic that would reflect your interests?
We have made a list of several topics that concern different sides of pop culture. Pick the one you like or modify it according to your tastes and we guarantee that your teacher will be more than impressed!
Pop culture topics on style and beauty
Describe all the beauty trends like Botox and other types of injections. This tendency has appeared in the late 2000s and is only gaining popularity. Even though the technologies are better, it still looks rather unnatural and it seems that women don't know when to stop. Write about the most popular trends in the beauty industry, providing examples of artists, singers, and actors.
Trends of body shape. It is not a secret that from time to time perception of perfect body shape changes: a few centuries ago women with curves and a few extra pounds were trendy, while in 2000s half of the models had anorexia. Luckily, it seems that heroin chic is no longer a trend and more models with curves appear. Discuss the impact of body shape trends on women across the world.
Male trends. You will probably agree that modern men pay much attention to their appearance: hairstyle, beards, clothes, and even shoes. Men seem to follow fashion trends and soon they will even catch up with women. Reflect whether it is a good or a bad thing. Are men becoming more feminine or there is nothing wrong in taking care of oneself?
Entertainment pop culture topics
Celebrities have always been role models for millions of people worldwide – from Ancient Rome warriors to movie stars. We can't deny that famous people play an important part in our lives and we copy their appearance, style, and even behavior. Explore whether there is a chance to lower the impact of celebrities on society.
Do you think that dystopia movies predict how our world will look like sometime in the future? Is it an objective image of what is waiting for us or is it nothing but a fiction? Can we learn from these movies and try to fix all the harmful changes in society? If possible, make your own suggestions and back them with arguments.
Tell how the role of women has changed throughout centuries. In modern pop culture, women are not just housewives with the only goal of bringing up children. They are characters with personality, aspirations, and hopes. Try to evaluate those changes and draw a picture of a female role in the culture.
Social pop culture topics
Discuss the most popular music genre at the moment. Maybe it is rock or punk? Or hip-hop is catching up? Try to research how the predominant music style has changed throughout history and how it reflected the mood of society.
Is the background of a singer or author important for the image of his creation? How changes in life impact the process of creating something new? Give examples when creation depended on the background and environment of its author.
Do you think that gender influences the career of a person? Back your opinion with examples from the pop culture world.
Tips to keep in mind
Above we have already discussed what elements a pop culture essay should include and what it takes to deliver a great paper. However, there are still a few tricks you should know in order to get an A+ and to impress your tutor. They are:
Follow the tutor's requirements. When the paper is assigned, you should keep your ears open not to miss any important detail. Make sure you know how long the essay should be or what formatting style to apply. If you doubt, don't feel shy to approach the teacher once again and clarify all the details;
Start writing in advance. Make sure you start working on the assignment without a hurry. Even though an essay on a pop culture topic will be only a few pages long, make sure you have at least several days to conduct deep research and find all the necessary details. And if there is time left, don't rush to submit it – when reading the final draft with fresh eyes you may want to make a few changes;
Proofread and edit. Many students think that once the final word is written the essay is ready. However, to get a great mark you should read the draft attentively and fix all the possible mistakes. They include spelling, grammar, punctuation, and even slang or jargon. Even if the chosen pop culture topic is light and entertaining, you should still stick to academic vocabulary. Don't forget to check whether all the transition words are in place. If you doubt, use online checkers that are able to detect all types of mistakes. With their help, you will be sure that none of the details were missed out. Another great idea is hiring a professional editor or proofreader at our online writing service;
Ask for a side opinion. When the essay is written, it is the right time to put it aside and treat yourself with the things you enjoy. Then get back to the paper and ask the people you trust to read your work and evaluate it. They may find mistakes or hidden inconsistencies you have missed. Thus, your chances of getting an A+ will greatly increase.
Conclusion
Pop culture is more than entertainment and levity. It has lots of different aspects, which makes these topics one of the most interesting and diverse for students of all academic levels. And the best thing is that we are all related to it, so the only thing needed to craft an outstanding essay is to delve into the memory and find thoughts or ideas that you'd like to share with others!
In case you still have any questions left on choosing a pop culture topic or writing an essay itself, feel free to contact us and our top experts will help with writing, editing and proofreading your masterpiece!