‹ Go back to educational blog
How to Write an Autobiography: Step-by-Step Tutorial
May 18, 2020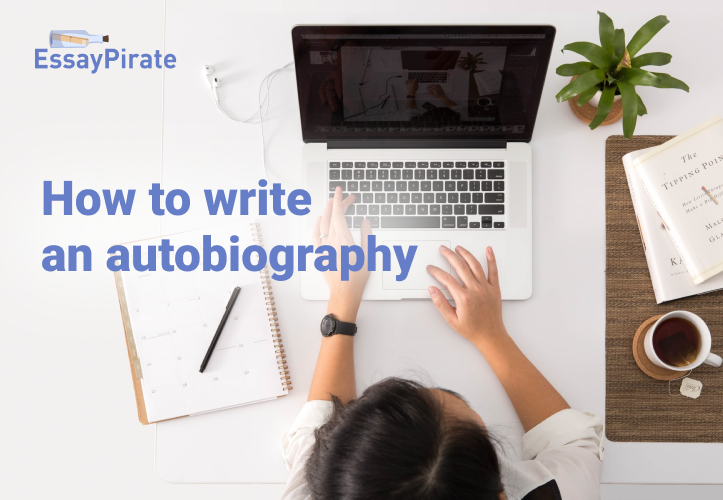 Autobiography is an essay that is focused on your life, experience, and traits of character. It's not surprising that this assignment can be much harder than writing on a general topic. And even though an autobiography essay is not as common as a descriptive one, it's important to learn how to write about yourself because sooner or later, you'll need to write applications and resumes.
Learning how to write an autobiography helps to master personal statements and sharing a bit of your character and personality with the audience. Compared to resumes and CVs, this assignment gives more details than you could include a standard paper.
We understand how challenged and confused you are, so we are ready to share the best tips for writing an autobiography essay. Telling about yourself will no longer be a problem.
Planning
There is no difference whether you are asked to write an autobiography for the class or a scholarship essay – always start with planning. Here is when you define goals and purposes, choose an issue, and start working on the draft.
You probably know that selecting a topic is already half of success. We recommend choosing a real-life story that you deeply care about and which shows who you are. It is a good idea to write about your greatest achievement or failure, each of which could have a significant impact on who you are. Don't forget to define the purpose of writing. This will help to stay focused.
Another thing to remember is the audience. Think of the people who will read your essay and try to define their expectations. Once this stage is completed, you can proceed with writing. There are many helpful techniques: freewriting, questioning, listing, etc.
The last stage of the planning step is crafting an outline. Try to make it detailed, which will help writing faster and including every detail. Trust us; this stage is a must even if you think that it only wastes time.
Writing
Now, when you have an idea of what to discuss and an outline with the key issues and arguments, it's the right time to start an autobiography. Jump into the story without any fears or worries: you'll be able to fix the mistakes and imperfections later.
We recommend starting the essay with an eye-catching phrase, a hook, or a memorable sentence that will engage readers right away.
Here are a few useful tips when learning how to write autobiography essay:
Always write the essay in the first person;
Show instead of telling: make the story as detailed as possible by describing the setting and background;
Don't make the story too broad;
Never start the essay with a quote and try to write something intriguing instead;
Make sure transitions between paragraphs and sections are smooth and clear;
Start by explaining the background to help readers understand what you want to render. Then start telling what happened;
Finish your autobiography essay with a clear and engaging conclusion. Explain why the story is important and what lessons you have learned from it.
Hurray! You are almost done.
Polishing the Essay
Once the assignment is completed, you shouldn't rush to submit it. Instead, you must read the final draft attentively and see whether there are mistakes that should be fixed and improved. Here's what your tasks are:
Improving punctuation and grammar;
Making sure that your autobiography essay follows the required structure;
Ensuring there are enough details to make the text vibrant and memorable;
Using various writing techniques to stand out from the rest. For example, switching between chronological orders;
Remaining yourself. Sometimes it is very difficult to hear yourself, especially if you read essay examples online. However, not being yourself is a mistake that you can't afford when writing an autobiography essay.
Examples of an Autobiography Essay
If it's your first time writing such a personalized essay, we recommend getting familiar with examples of similar works. Here is a short example of how to start your autobiography essay.
By this time, I already know that life is made not only of positive and fun moments. But I also know that the challenges and difficulties that we overcome make up an important part of our lives. One of the most significant and challenging periods in my life was taking care of my younger sister when our parents got divorced.
Both of them wanted to fix their lives, and didn't have time or motivation to pay attention to two teenagers, left one-on-one with the world. At first, it was difficult to be not only a brother but also a mother, a cook, a tutor, and a best friend. But now we have built strong bonds and know that nothing can beat us until we have each other.
Soon we will have to leave and start our academic journeys in different parts of the country, but I strongly believe that tight family connections, especially when they were tempered throughout multiple hardships, won't be broken.
And when I have a family of my own, I'll do everything I can to give my children a happy and strong family, where both parents will be willing to devote all their time and energy to creating a positive childhood.
Outline of an Autobiography Essay
As we have already discussed above, working on an outline may give you lots of advantages. When having a clear plan of action, there won't be a need to think of the things to discuss. You won't have to worry about missing out details or including irrelevant data.
Crafting an outline isn't that difficult – just take some time and think about the things that engage with the main idea of your essay. We asked our writers, and most of them said that word associations are a great way to boost imagination and brainstorm the topic.
And finally, an autobiography essay doesn't have a strict structure to follow, so you can be creative and decide on the content on your own. Below you'll find an outline example that can be applied, not depending on what your topic is.
Entering college
Introduction
Aspirations
Parents
Hobbies and interests
Learning about requirements
Writing a personal statement
Challenges I had to experience
What I would do in a different way
Conclusion
As you see, the number of arguments and points depends not only on the topic but also on the size of the future essay, and your own preferences. Just listen to yourself and create a unique autobiography essay that will help readers see who you are!