‹ Go back to educational blog
Helpful Guide on How to Write About Yourself
July 15, 2020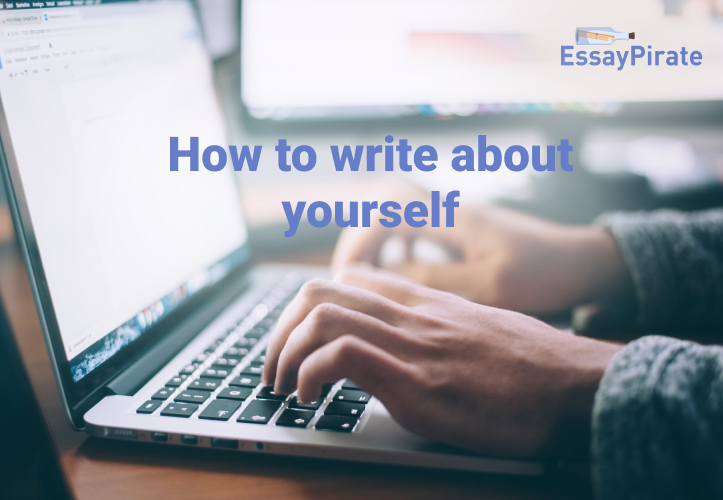 In the life of every student, a moment comes when they need to write about themselves. This could be an essay, a newspaper article, or a blog post. However, writing about yourself causes fear and doubt among students. Most of them do not know where to start and how to attract the attention of the audience. They believe that they have nothing to tell so that it would be useful to readers.
It most likely feels strange to you if you are not willing to talk about your life. The first thing that scares students is to talk about their achievements and abilities. Children do not want the text to sound like they are showing off. Secondly, an essay about yourself should be creative and interesting. The problem is that some students simply write facts from their lives. Therefore, their essay sounds like a CV.
How to Improve Your Writing?
The main way to improve your writing is to write as much as possible. You should practice whenever possible, no matter if you have a task or not. We recommend that you start a personal blog or start writing notes with your memories. For example, you can record your feelings and experiences when traveling or going to an important event. These notes may become topics for essays in the future.
Keep in mind that writing about yourself will be quite tricky if you have no experience yet. However, this is a necessary task if you are applying to college or university. Therefore, you should practice in any free time. If you don't know where to start and how to improve your writing skills, our tips will help you a lot.
Useful Tips to Help You Write About Yourself
You may already be familiar with some recommendations for writing about yourself. However, it is much better if you can learn the most important things from one article. We have made a list of 5 tips that will help you write a personal essay from scratch. Here they are:
Practice blogging and journaling;
Keep writing no matter what the purpose is;
Collect bright moments and details;
Set your personal boundaries;
Look for inspiration and expert recommendations.
Of course, we will not leave you alone in learning each tip. We researched that topic so you can get familiarized with our tips in detail.
1. Practice blogging and journaling
The first thing that will help you get rid of fears and doubts is a blog. Start writing about your life, luring people into a discussion. Make a content plan by looking at the accounts of popular bloggers. So you will understand how topics collect a lot of comments and gain a huge number of likes. Write down what topics you could promote on your blog.
Make a list of your strong suits. For example, you go swimming, write poems, and help parents with younger siblings. You have extensive experience in these topics, so you can be called an expert. Start talking about your accomplishments and the ways you used to achieve your goals.
Start with common themes to attract as many people as possible. Write on basic topics, reflecting on the meaning of life, beauty, or sports. Then move on to the narrower topics in which you have experience. You will not only you attract new subscribers but also learn to reveal yourself to an audience. The main thing that blogging gives you is the ability to be sincere and open.
2. Keep writing no matter what the purpose is
No matter what the purpose or situation is, keep practicing. Find the place where you feel safe and inspired. You should not be full of ideas at any time of the day. However, try to allocate at least half an hour a day to write something about your life. Find the best way that fits you: you can write emails, reviews, or essays. Keep in mind that you can put the results in your portfolio.
When you start writing, do not focus on your style or writing skills. You will definitely make a lot of mistakes, and that is no big deal. However, the more you practice, the stronger your writing skills and habits become. Some day you will realize that your papers are much better than they were in the beginning.
3. Collect bright moments and details
Your essays and publications must be interesting for your target audience. Therefore, you should collect bright moments or funny stories from your life. When you are heading to some event, find a few minutes to write down what you feel or anticipate. Focus on your thoughts and feelings and understand what you expect from the meeting or party.
If you need to practice your writing, but you do not have any ideas, open your notes and look back on what you were experiencing at some moment. It will be much easier to come up with a writing plan if you have some moments to remember. Also, you can review some old photos from your gallery or social media account.
4. Set your personal boundaries
If you are not comfortable with something, you do not have to discuss it. Even if you are a blogger or a journalist, you should also set the boundaries. You can write a publication and explain your feelings and character traits. That is how your subscribers can understand what they should not ask you about.
Avoid topics that make you feel stressed or worried. You should radiate positive energy, so write about things that are pleasant and comprehensible. Determine your target audience and pick up relevant topics. Define the typical issues your average reader experiences and try to discuss them. Encourage people to give feedback so that they can realize what topics to highlight.
5. Look for inspiration and expert recommendations
Find resources or blogs that inspire you. In your free time, browse attractive photos, old notes, and the posts you're tagged in. So you will find discussion material in your essays and articles. After some time, you will understand what topics you manage to write best.
If you need advice or guidance, find an expert on this topic. Contact the blogger you like or find a mentor. When you write an essay, ask your teacher or friends to rate it. Keep in mind that you can always order writing help at our online service.