‹ Go back to educational blog
Useful Tips on How to Write a Persuasive Speech
July 13, 2020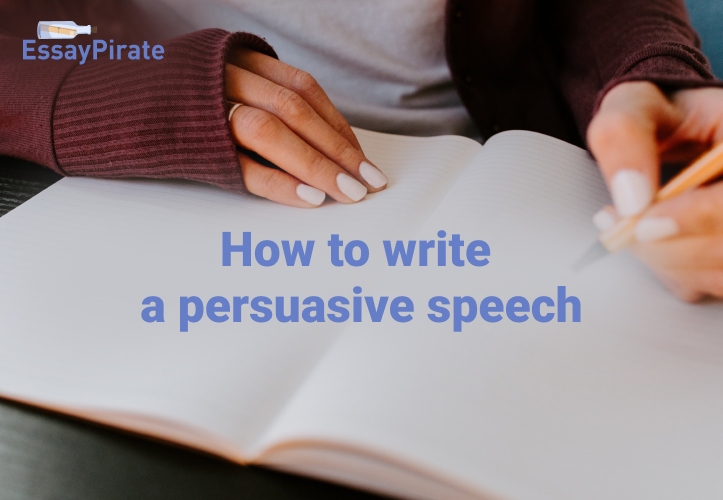 A persuasive speech is a powerful element to inform the audience about the issue and persuade them you have got the point. This type of talk helps you show your knowledge about the topic and skills of persuasion. You should be well-prepared to present your opinion and explain why you are right. However, it is quite hard to prepare for such a performance, especially if you have a large audience.
Whether it is the first time you are working on a persuasive speech or you have a bit of experience, it will take you a while to get prepared. The thing is that your convincing speech should be coherent, concise, and strong enough. Even those who are experts in writing persuasive speech materials need some time to gather intelligence and collect ideas. However, your speech should not be overloaded, so you need to find the right balance.
In this article, we will explain to you how to create a persuasive speech from A to Z. You will find a comprehensible guide and useful tips to improve the speech. If you are running out of time or inspiration, contact our paper writing service. You can order an assignment at any time, and we will start working on it immediately.
What Are the Goals of a Persuasive Speech?
To start with, let's learn what a persuasive speech is. It is a type of talk you give in front of the audience to present the issue and explain why it is important. It looks like an essay, as it consists of a strong thesis, the body part, and a concise conclusion. Despite the fact it should be informative, you should make it easy to understand. The spectator needs to follow your ideas without getting confused.
Well, let's switch to the goals of that assignment. You perform in front of the audience, so you instantly get the reaction and the vibe of the audience. That is why you have to define your goals and do your best to reach them. The goals of each speech can differ a little bit, but here are the basic ones:
You need to present the topic and explain the issue. Your task is to provide the listeners with essential materials that make up a foundation of the topic;
you need to explain why that problem is significant and what impact it has on each person. Your speech has to be relevant to the target audience so that everybody is involved in the presentation;
you want the audience to choose a side and come up with their opinion. You need to encourage each person to show their attitude;
you seek to understand other people's opinions. That is why you should interact with the listeners, encourage them to give proper feedback.
Step-By-Step Guide to Writing a Great Persuasive Speech
Now, when you clearly understand what a persuasive speech is, you need to figure out how to create it from scratch. You may be familiar with some recommendations, but you don't understand the full process of writing yet. That is why we have prepared a comprehensible guide to write a convincing speech. Grab your pad and pen to write down each step.
1. Research the topic
You cannot start working on the paper until you get familiar with each aspect of the problem. Make sure to research the topic and gather intelligence. Your main goal is to perform as a professional speaker. That is why you should spend enough time researching the issue and collecting important data.
The thing is that you should make a great impression from the beginning. You can do that by presenting the crucial information, which is not familiar to listeners. If you start with some general phrases, the audience will lose interest right away.
2. Pick up a few credible sources
You don't know how experienced each person would be. That is why you have to be extremely careful while choosing the relevant sources. Remember that your speech has to be coherent and concise, so you have to present only critical data. When you look for the relevant books and websites, make sure to write them down. Therefore, you will not lose any source when you start working with the text.
Use only credible sources that meet academic standards. It is extremely important because somebody can ask you about the sources you have used. If you are lost among lots of sources, and you cannot figure out which to choose, contact our academic writing service.
3. Define your goals
Not only should you determine the central goal of your speech but also explain it to the audience. You have to start the speech with a bright introduction, which contains a strong thesis statement. Your thesis should explain the main purpose of the speech so that the audience understands what they are about to hear. We all like to know what is going to happen, so make sure to make it clear.
4. Hit the audience from the beginning
The first paragraph should be the most attractive part of the speech. That is the only way to interest the audience and make them listen to you. Use brainstorming to create a bright introduction with a thesis statement and a hook. Those elements grab the listener's attention, so take your time to make them engaging.
5. Show the arguments and counterarguments
You should act as professional as possible. Come up with strong arguments to persuade the audience. Make them clear and concise without getting emotional. Choose three-four arguments that sound most convincing. Ask your friends to evaluate them.
Try to place a few counterarguments to show awareness. This way, the viewers will see that you are ready to acquire any type of feedback. Also, counterarguments show that you are interested in future research on that issue.
6. Present the evidence
You have to support each argument with the appropriate evidence. Browse through the collected sources to find material that proves your assumptions. You cannot hit the audience only by expressing your feelings. It would be great if you could combine the proper evidence with your ideas and feeling.
7. Finish the speech
The last part of your talk is a conclusion. It should be small and strong to leave a positive impression. Try to summarize the speech and refer to your arguments. Keep in mind that you would better finish your speech with a call to action. Make it sound natural and consistent.
Make Your Persuasive Speech Bright And Strong
When you perform with a persuasive speech, you should stay confident. Follow the logical sequence to let the audience follow your ideas. Rehearse in front of your friends to get feedback about your mistakes. Combine the arguments with your emotions and gestures so that your speech is balanced. Avoid getting nervous or overwhelmed with emotions.
Keep in mind you can always order the assignment at our online service. This way, you can get rid of stress, fear, and sleepless nights. Provide us with the requirements, and we will start working on your speech immediately. Choose the best way to succeed in studying.