‹ Go back to educational blog
How to Publish a Short Story If You Have Never Done It Before?
June 22, 2020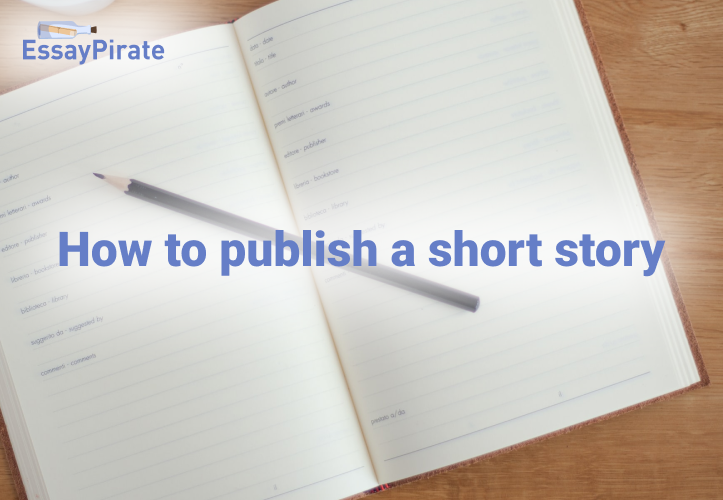 Writing shorts stories is a fascinating process in itself, but let's admit that written stories exist for readers, not for piling up in a drawer. Of course, writers never know how the potential readers may perceive their work and who their audience might be. Stories often get misinterpreted or underestimated, sometimes strongly criticized. On the other hand, some books become all-time favorites. Naturally, any author would like their stories to be read and cherished. In order to make it possible, you need to publish your works in some form. Some methods are usually more successful than others, but you need to try several approaches and find out what works better for you.
First of all, you must determine your purpose and personal goals. Is it to test yourself and your writing skills? Do you wish to appear in literary magazines or come into view and get in touch with publishers? Maybe you just want feedback from the readers? Is it your goal to make a living with your writing? After all, you might just feel adventurous and see where this road may take you. Consider all these options and see what feels right.
Let's talk about different ways of publishing: a traditional one and self-publishing.
The Traditional Approach
Getting published with the help of traditional channels might not be the easiest way. If you know how to make your way through this industry, everything is likely to work out right for you. However, it doesn't guarantee that you will earn yourself a place under the sun or readers' attention. To be frank, self-publishing doesn't work in a miraculous way either.
Things get even more complicated when it comes to short stories. You may face difficulties and disappointment while trying to find a publisher who would be willing to publish short stories. There wouldn't be any hesitation if Haruki Murakami wanted to put out a collection, of course, but this is a completely different case.
Your best option is reaching out to literary journals, which are numerous so that you can choose among tons of them. Consider special websites where you can upload your stories to some publications. Keep in mind that you will get charged for this, and no one will guarantee that your story will see the light. If you are lucky to get published, these publications may offer you payment, sometimes even considerable amounts. Make sure that those journals fit your writing style and themes. In any case, conduct your own research and try to give it a chance by submitting your stories.
If your story gets published, agents and publishers may notice you, but don't expect any miracles. Sometimes you need to try hard and repeat it multiple times, maybe even hundreds.
Famous writers like Charles Bukowski or Gabriel García Márquez started out with publishing their short stories in magazines. In earlier days, even Esquire publishes short stories, but those times are over.
Important note: don't submit your works to a publication that you are unfamiliar with. Read the magazine first, feel the tone, and then decide whether your stories fit. This is quite a helpful strategy.
Consider including a cover letter for your short story. Describe it briefly and explain who the main characters are, but be laconic and brief. You can also provide your short and modest bio, keeping the main focus on your written material.
Self-Publishing
The world has changed massively in the last years, and the publishing industry is not an exception. We have come to the new age of publishing and experienced a big shift. The are many authors who have made a name with the help of eBooks that you can find on Amazon. The emerging blogs also made a huge difference. New ways of presenting your works are now available to everyone. The background has changed so that now it takes more than just creative pieces of writing.
Self-publishing means that everything depends on you. Your success is determined by your patience, persistence, and the ability to submit your stories in the right places. Building relationships with people who might find your written materials compelling is also very important.
Surely, self-publishing allows you to gain control of the financial, as well as the creative aspect. However, this route is also full of various obstacles. It is extremely difficult to play all the roles at ones. If we are talking about self-publishing, you should learn how to be a writer, an editor, a marketing specialist, a social media expert, and an entrepreneur all at once. Mind that all of this comes with no budget.
In this scenario, you don't rely on a publisher with their experience in the industry, specialized knowledge, marketing skills, and connections. The traditional approach to publishing implies that you have a professional editor. Besides, publishers usually make sure your book occupies solid positions on the shelves of the big bookstores. You get your share and hope for earning an advance.
Self-publishing allows you to be in control of things and start right away. There is an option of publishing eBooks via Amazon, which even gives you an opportunity to make paperbacks. Their print on demand service is truly amazing. You are in charge and make a decision regarding the book cover, prices, and distribution. 70% of the royalties is yours (it depends on the pricing of your work). You are also responsible for making sales, which means finding your audience and reaching out to them.
Research some of these useful resources which might help you with self-publishing:
How I sold 1 Million eBooks in 5 months by John Locke. The title of this book is a bit slimy, but don't jump to quick conclusions. It may take a while before good practical stuff begins to emerge, so be patient as it is totally worth it. In his book Locke provides you with some amazing insights, explains how to create your personal platform and how to find your audience.
Follow the story of Hugh Howey and his Wool series. Howey is a very creative and productive writer. Wool was initially just an eBook novella, but the readers wanted more. Howey invented his own rules of self-publishing and became successful in this field.
Explore Andy Weir's work. He is the author of The Martian. This amazing book became a global phenomenon after a Hollywood movie with Matt Damon was released. Weir started with publishing some parts of The Martian on his blog and started receiving feedback from the readers. This feedback was used while editing The Martian.
creativindie.com is a very insightful website with free courses, eBooks, and informative webinars regarding self-publishing. It is surprising how free stuff can be this good and high in quality.
What Should You Do?
The way you choose to proceed should be consistent with your goal. What is it you want to achieve by publishing your stories? Determining your purpose is very important.
In my case, I wanted to affect people, make them delve deep into my stories. My wish was to make the readers think about the usual things in an unconventional new way. In time, I would like to make a living with publishing my short stories, but you should keep in mind that it doesn't happen at once. At the beginning of your writing career, you should focus on captivating the readers' attention. If making money is your main purpose, you should also write non-fictional articles.
In my opinion, self-publishing makes the most sense. There is always an option of exploring both routes. It depends on how much work and time you are ready to put into this undertaking.
As for short stories, the market is not big, so be realistic. The truth is that average readers prefer novels. But if your purpose is to come to light and introduce the audience to your writing, give it a go.
I enjoy composing short stories. They help emerging writers to polish their writing skills and enhance the quality of their works, as well as introduce certain ideas to the audience. Working on a novel might be the next big step in this journey.
My Experience
Three years ago, I decided to take my short stories to a new level and approach it seriously.
It was February 2018 when I launched my personal webpage. There were no readers at the beginning, apart from my close friends and some family members. I had to develop some strategies and find my audience. Reaching out for other writers and their blogs were very helpful. I noticed how each story was unlike the other; each one had a different theme. At the same time, every author had a unique, recognizable style of writing. Interestingly, most of the topics matched other non-fiction posts of different bloggers. I selected a number of finance blogs that published materials about helping people to deal with money issues, avoid debt, and handle their finances wisely. After sending around 20 requests, I got featured on one website, which wanted to add my short story to the newsletter. That day I had more than 2,000 views, which made me shine with joy.
I proceeded with this strategy for three or four months. Sometimes I didn't get any feedback, and I had to be patient and keep trying. At some point, I noticed that my stories get accepted more often. This strategy gave a boost to my personal website. Now there are nearly 2,000 monthly visitors on my website.
I also tried submitting my stories on Reddit, but that did not work for me at all. The audience on Reddit is mostly negative and cynical, which made me quite upset. I simply didn't want that. So, I decided to turn to Medium and tried posting my works there. No one read them at first. I turned to my experience and knowledge accumulated in the first months of composing short stories. I realized that I wanted to share my own story. That is when I started telling people about my writing journey. My posts were mostly non-fictional. I got many new followers and stats went up. I combined my fiction and non-fiction writing on both platforms, which brought more readers. Besides, I really enjoyed the whole process and started earning money.
I was also publishing eBooks on Amazon. At first, it was a humble selection that included only five short stories. A year later, I published a 10-story collection, which I keep selling.
Conclusion
First, determine your goal and align it with a specific publishing strategy. Numerous options may be overwhelming, so take your time and give it some thought.
Consider how much time you can devote to self-promotion
For starters, I would recommend creating a Medium page. Try submitting your short stories there. Setting up your personal blog is also a good idea if you have enough time for it. Visit Squarespace, where you can choose a template for your site.
Enter writing contests in literary magazines
If you already have some assembled material, try publishing it on Amazon and see how it goes.
Good luck with your stories!